$29.99
AUD
Category: Mind Body Spirit
Busy minds need a place to rest. Whether you find yourself struggling to sleep, awake in the middle of the night, or even just anxious as you move through the day, in Nothing Much Happens, Kathryn Nicolai offers a healthy way to ease the mind before bed: through the timeless appeal of classic bedtime st ories. Already beloved by millions of podcast listeners, the stories in Nothing Much Happens explore and expose small sweet moments of joy and relaxation: Visiting the local cider mill in the autumn. Watching the tree lighting in the park with friends in the winter. Sneaking lilacs from an abandoned farm in the spring. Watching fireflies from the deck in the summer. Closing up the book shop for the night and opening the bakery in the morning. You'll also find sixteen new stories never before featured on the podcast, along with whimsical illustrations that expose sweet little moments of peace and joy. Using her decades of experience as a meditation and yoga teacher, Kathryn Nicolai creates a world for you to slip into, one rich in sensory experience that quietly teaches mindfulness and self-compassion, soothes frayed nerves, and builds solid habits for nurturing sleep.   ...Show more
Dot
by Kieran E. Scott
$19.99
AUD
Category: Mind Body Spirit
Are you feeling a little bit (or a lottle bit) anxious?Meet DOT, who's here to help. In this beautiful little hand-drawn book, DOT offers a practical way to comfort and calm anyone anxious, stressed or overwhelmed. For anyone (big or small) who wants to take a moment and some nice, deep breaths.
$34.99
AUD
Category: Mind Body Spirit
In This One Wild and Precious Life, Sarah Wilson explores the central disorder of modern existence: disconnection from ourselves, disconnection from community, disconnection from the preciousness of life on this planet  This One Wild and Precious Life is a journey of the soul, a case for why we need to cast off our too-tight psychic apparel and step bravely into the uncertainty of 'giving a fuck', the whirlpool of finding purpose, and the perilousness of connecting fully, passionately and unequivocally to life again. Sarah's journey pivots from her own anxiety and feeling of disconnection, as she takes the reader on a three-year odyssey to reconnect with the life she feels we are losing via a series of hikes around the world. Throughout, she brings together science and spiritual understandings ('East meets West'), following in the footsteps of artists, poets and philosophers, to amplify the conversation that the world wants and needs to have right now. Elegantly written and uncannily prescient, this is the perfect book for this difficult era of climate carnage and COVID-19, that goes well beyond the data and the political toing and froing, a compelling argument for turning collective crises and shared malaise into rocket fuel for personal and social transformation. And a better world.   ...Show more
$35.00
AUD
Category: Mind Body Spirit
The Sunday Times Bestseller and New York Times Bestseller. A book of hope for uncertain times. 'Feeling a little blue? Meet the new Winnie the Pooh.' The Daily Mail 'A wonderful work of art and a wonderful window into the human heart' Richard Curtis Enter the world of Charlie's four unlikely friends, di scover their story and their most important life lessons. The conversations of the boy, the mole, the fox and the horse have been shared thousands of times online, recreated in school art classes, hung on hospital walls and turned into tattoos. In Charlie's first book, you will find his most-loved illustrations and some new ones too.     ...Show more
$24.99
AUD
Category: Mind Body Spirit
First there was hygge, now there's Niksen - a simple Dutch philosophy for anyone looking to slow down, relax and daydream. Press pause to pre-empt burnout and claim your life back.
$70.00
AUD
Category: Mind Body Spirit
Monocle has always been a champion of taking it slow. Past issues have encouraged readers to dive into a lake and go for a run. To sleep well. To eat food made with love. Even today, in a tense moment in history, the magazine has done its bit to argue for a new modern etiquette where communities are gen erous with their time, hospitality, and forgiveness. Now its editors and correspondents have brought all of this together into one volume with The Monocle Manifesto for a Gentler Life, a book that urges us all to slow down, reconnect, make good things, and think about the spaces we call home.Some of the highlights of this volume include: An illustrated guide to being nice, respecting your neighbors, and controlling your social media rants; practical tips on how to design a house that's good for you and your family; Q&As with the people who have decided to take a gentler approach to work and living; and a celebration of locally made food--with featured recipes--as well as the chefs that bring people together. The helpful tips and insights in this guide make it the perfect handbook for anyone looking to slow down and enjoy life. ...Show more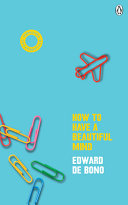 $29.99
AUD
Category: Mind Body Spirit
People spend a fortune on their bodies, their faces, their hair, their clothes. Cosmetics, plastic surgery, diets, gym membership - everyone's trying to be more attractive. But there's an easier way to become a beautiful person. It doesn't have to be physical. No matter how you look, if you have a mind that's fascinating, creative, exciting - if you're a good thinker - you can be beautiful. Being attractive doesn't necessarily come from being intelligent or highly-educated. It isn't about having a great personality. It's about using your imagination and expanding your creativity. And it's when talking with people that we make the greatest impact. A person may be physically beautiful, but when speaking to others a dull or ugly or uncreative mind will definitely turn them off. In clear, practical language, de Bono shows how applying lateral and parallel thinking skills to your conversations can improve your mind. By learning how to listen, make a point, and manoeuvre a discussion, you can become creative and irresistible. ...Show more
$32.99
AUD
Category: Mind Body Spirit
For the light seekers and the love givers. This one is for you. For anyone who has ever loved and lost. This one is for you. For the sensitive souls, the magic makers, the time takers. This one is for you. May this book brighten your shadows, illuminate your path and walk you home to yourself. Sjana El ise Earp inspires thousands of people around the world with her infectiously joyful approach to life. But happiness hasn't always come easily. During her recovery from her experiences of anxiety and depression, writing has been Sjana's tool to reflect, find gratitude and grow through her emotions. Now, she's ready to share her vulnerability in her first published collection of poems and photography, and help lift up her sisters too. Dip in during moments when inspiration or comfort is needed, or take a cover-to-cover journey through Sjana's tender words and beautiful images of nature's wonders. Either way, you'll feel grounded, calmer and more connected to the unique power within you. And you, too, will rise. ...Show more
$22.99
AUD
Category: Mind Body Spirit | Series: Perennial Classics (Paperback)
An international bestseller Over 80 million copies sold worldwide A PBS Great American Read Top 100 pick A special 25th anniversary edition of the extraordinary international bestseller, including a new Foreword by Paulo Coelho. Combining magic, mysticism, wisdom and wonder into an inspiring tale of sel f-discovery, The Alchemist has become a modern classic, selling millions of copies around the world and transforming the lives of countless readers across generations. Paulo Coelho's masterpiece tells the mystical story of Santiago, an Andalusian shepherd boy who yearns to travel in search of a worldly treasure. His quest will lead him to riches far different--and far more satisfying--than he ever imagined. Santiago's journey teaches us about the essential wisdom of listening to our hearts, of recognizing opportunity and learning to read the omens strewn along life's path, and, most importantly, to follow our dreams.   ...Show more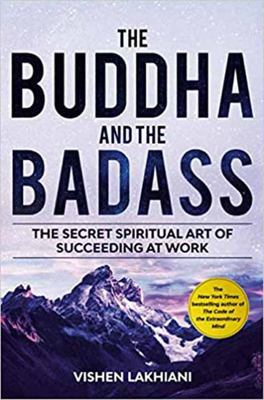 $29.99
AUD
Category: Mind Body Spirit
The Buddha and the Badass: The Secret Spiritual Art of Succeeding at Work is a call to action for business leaders or anyone who aspires to be one. Corporate pioneer Vishen Lakhiani reveals the revolutionary culture-hacking formula he used to grow Mindvalley, his burgeoning personal development business that went from $700 into a $50 Million business with zero funding. It's a clearly defined, five-step process that can transform your company into a magnet for the world's top talent, create a growth-centric culture, and engineer an environment of symbiotic co-creation, where the balance of autonomy, collaboration, and connection breeds happy, productive teams. You'll learn- How to attract the right people- Focus not on hiring into specific roles, but hiring people who fit the culture you're trying to build. How to create a motivated, inspired work culture- Vishen shares the four emotions that are dominant across all people looking for jobs so you can hire the right people. How to create a culture where employees live better lives outside of work- Vishen shares his theory that we should work for the "minimum effective dose"--working harder, not longer, taking advantage of short spikes of energy to get a lot done. How to coax the leadership instinct in your people- You should want your employees to be so good that they eventually leave you! How to prepare for the future of work- What will the workplace look like when AI and robots replace employees and universal income is implemented?This is a guide to transforming your beliefs and habits to realize happiness, achieve success, and fulfill your purpose, using the exact strategies Lakhiani used to fuel Mindvalley's explosive growth. ...Show more
$29.99
AUD
Category: Mind Body Spirit
You don't need to be a genius, you just need to be yourself. That's the message from Austin Kleon, a young writer and artist who knows that creativity is everywhere, creativity is for everyone. A manifesto for the digital age, Steal Like an Artist is a guide whose positive message, graphic look and illu strations, exercises, and examples will put readers directly in touch with their artistic side. When Mr. Kleon was asked to address college students in upstate New York, he shaped his speech around the ten things he wished someone had told him when he was starting out. The talk went viral, and its author dug deeper into his own ideas to create Steal Like an Artist, the book. The result is inspiring, hip, original, practical, and entertaining. And filled with new truths about creativity: Nothing is original, so embrace influence, collect ideas, and remix and re-imagine to discover your own path. Follow your interests wherever they take you. Stay smart, stay out of debt, and risk being boring--the creative you will need to make room to be wild and daring in your imagination. ...Show more
$24.99
AUD
Category: Mind Body Spirit
When a global crisis has got you down, brighten your day with a sh*tload of color Save humanity and your sanity by coloring through a collection of incredible works of art. When you're tempted to come into contact with other humans, rewash your hands, retreat to your creativity cave, and color the sh*t out of these illustrations instead Enjoy the tranquility of staying six feet away from loved ones while getting up close and personal with your imagination. Let your social distancing shine and channel your inner introvert with Stay the F*ck Home and Color - Flatten the curve and boost your mood with more than 35 soothing illustrations- Sanitize your colored pencils and gel pens and get your coloring on - Do your part and comingle with nobody but art ...Show more