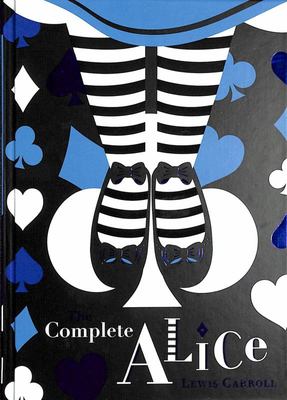 $19.99
AUD
Category: Children's Classics | Series: Puffin Classics Ser.
This beautiful hardback edition is a special Puffin Classic created in partnership with the world-famous V & A Museum, and has a stunning cover design inspired by the iconic fashion featured in the book. You never know where you'll find yourself in Alice's Adventures in Wonderland by Lewis Carroll! On an ordinary summer's afternoon, Alice tumbles down a hole and an extraordinary adventure begins. In a strange world with even stranger characters, she meets a grinning cat and a rabbit with a pocket watch, joins a Mad Hatter's Tea Party, and plays croquet with the Queen! Lost in this fantasy land, Alice finds herself growing more and more curious by the minute . . . ...Show more
$9.99
AUD
Category: Children's Classics | Series: Collins Classics Ser.
Meet little Mole, willful Ratty, Badger the perennial bachelor, and petulant Toad. Since their first appearance they've become emblematic archetypes of eccentricity, folly, and friendship. And their misadventures-in gypsy caravans, stolen sports cars, and their Wild Wood-continue to capture readers' ima ginations and warm their hearts long after they grow up. Begun as a series of letters from Kenneth Grahame to his son, The Wind in the Willows is a timeless tale of animal cunning and human camaraderie. ...Show more
$29.99
AUD
Category: Children's Classics | Series: Dr. Seuss
The classic Dr. Seuss tale about the journey ahead of all of us as we grow up, now in a beautiful slipcased, hardback gift edition. From fun times and triumphs to lurches and slumps, Dr. Seuss takes an entertaining look at the adventures that life may have in store for us. This special edition hardback with beautiful matching slipcase is perfect for those important life events such as graduations, weddings, christenings or changing school, as well as everyday reading for all ages. ...Show more
$16.99
AUD
Category: Children's Classics | Series: Macmillan Collector's Library
The little prince is a poetic tale that comes accompanied by illustrations made with watercolors by Saint-Exupéry himself. In it, a pilot is lost in the Sahara desert after his plane suffered a breakdown, but to his surprise, it is there that he meets a little prince from another planet. History has a p hilosophical theme, which includes social criticisms directed at the "strangeness" with which adults see things. These criticisms of "important" things and the world of adults are appearing in the book throughout the narrative.It includes a brief biography of the author. ...Show more
$24.99
AUD
Category: Children's Classics
A beautiful hardcover edition to celebrate the 30th anniversary of Alison Lester's much-loved classic picture book. Imagine offers a fascinating look into the natural world, and has delighted children and parents over many years.
$39.99
AUD
Category: Children's Classics
Snugglepot and Cuddlepie are much loved for their many adventures in the Australian bush. Introduce a new generation to May Gibbs classic characters in this delightful collection of tales perfectly suited to young children. This boxed set contains the following storybooks: Tales From the Gum Tree, Tales From The Billabong, Tales from the Bush, Tales from the Camp Fire and Meet Snugglepot and Cuddlepie. ...Show more
$17.99
AUD
Category: Children's Classics
A NEW TRANSLATION BY MICHAEL MORPURGO, AUTHOR OF WAR HORSE Meet the Little Prince, a young fellow who hails from a tiny, distant planet. He loves to watch sunsets and look after his flower, to ask questions and to laugh. And now here he is on Earth, appearing out of nowhere in the middle of the desert, looking for a friend. The friend he finds is the narrator of this story - a pilot who has crash landed and is in grave danger of dying of thirst. The Little Prince might be just a boy but he can help our pilot. Because he understands the really important things in life - things like flowers, stars, a drink of water or laughing. Many grown-ups have lost sight of what matters and children have to remember to be tolerant towards them. But adult or child, very silly or very wise, this story is for you. Includes exclusive material: In the Backstory you can read a letter from master storyteller and translator of this book Michael Morpurgo! ...Show more
$26.99
AUD
Category: Children's Classics
Bedtime Classics introduce classic works of fiction to little literary scholars through character driven narratives and colorful illustration. Designed to be the perfect one minute bedtime story (or five minutes-if you're begged to read it over and over) parents can feel good about exposing their childr en to some of the most iconic pieces of literature while building their child's bookshelf with these trendy editions! Alice tumbles down the rabbit hole and enters a magical place called Wonderland, where she meets some curious characters before awaking to find it was all a dream. ...Show more
$24.99
AUD
Category: Children's Classics
A beautiful hardcover edition to celebrate the 30th anniversary of Alison Lester's all-time favourite Australian beach book. Visit a perfect beach where you can swim, surf, splash through the waves, build sandcastles, beachcomb, explore rock-pools, muck about in boats, fish from the jetty, and build a bonfire under the stars. Visit Magic Beach, where adventure begins...   ...Show more
$19.95
AUD
Category: Children's Classics
The Giving Tree, a story of unforgettable perception, beautifully written and illustrated by the gifted and versatile Shel Silverstein, has been a classic favourite for generations. Since it was first published fifty years ago, Shel Silverstein's poignant picture book for readers of all ages has offered a touching interpretation of the gift of giving and a serene acceptance of another's capacity to love in return. Shel Silverstein's incomparable career as a bestselling children's book author and illustrator began with Lafcadio, the Lion Who Shot Back. He is also the creator of picture books including A Giraffe and a Half, Who Wants a Cheap Rhinoceros?, The Missing Piece, The Missing Piece Meets the Big O, and the perennial favorite The Giving Tree, and of classic poetry collections such as Where the Sidewalk Ends, A Light in the Attic, Falling Up, Every Thing On It, Don't Bump the Glump , and Runny Babbit. And don't miss Runny Babbit Returns, the new book from Shel Silverstein ...Show more
$19.99
AUD
Category: Children's Classics
A splendiferous new hardback of Charlie and the Chocolate Factory, part of a collection of truly delumptious classic Roald Dahl titles with stylish jackets over surprise printed colour cases, and exquisite endpaper designs. 'A true genius ...Roald Dahl is my hero' - David Walliams Bold and exciting and instantly recognisable with Quentin Blake's inimitable artwork. Boggis, Bunce and Bean are the meanest three farmers you could meet. They are determined to get Mr Fox - but he has other plans! Listen to FANTASTIC MR FOX and other Roald Dahl audiobooks read by some very famous voices, including Kate Winslet, David Walliams and Steven Fry - plus there are added squelchy soundeffects from Pinewood Studios! Look out for new Roald Dahl apps in the App store and Google Play- including the disgusting TWIT OR MISS! and HOUSE OF TWITS inspired by the revolting Twits. ...Show more
$16.99
AUD
Category: Children's Classics
Possum Magic has captivated and enchanted children and adults. Mem Fox's lovable characters, little Hush and Grandma Poss, and Julie Vivas' exquisite illustrations weave a story of pure magic. Continuously in print since it was first published in 1983. Possum Magic is one of Australia's most-loved child ren's picture books.  ...Show more