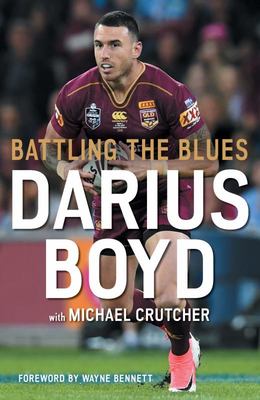 $32.99
AUD
Category: Sport
  Darius Boyd is an NRL champion. This raw, honest and inspiring memoir takes us into the heart of his footy and private life and reveals his fight to conquer his demons and live a better life. 'A legend of the game' - Anthony Seibold'He's a player that never lets his team down' - Billy SlaterDarius Boyd broke into the Brisbane Broncos NRL team in 2006 straight out of high school and was part of the premiership-winning team in his debut season. He'd go on to win another premiership with the Dragons in 2010, claiming the Clive Churchill Medal for man of the match and forever stamping his name as an elite champion of the game. He has played 28 State of Origins for Queensland and taken the field in 23 Tests for Australia - never playing in a losing Australian team. In 15 seasons at the top level, Darius has won nearly every honour the sport can award and is undeniably an NRL great.But listing statistics, awards and premierships doesn't reveal the battles that Darius Boyd has faced off the field. A teenager with a troubled background, he started his career with innate footy talent but also the emotional baggage of an unknown father, the devastating loss of loved ones, and a mother who was walking a mental health tightrope herself, which as a kid he didn't understand.As his talent shone on the field and his profile increased, Darius struggled. Hiding years of depression and unhappiness, playing footy was his escape. But no one can run from themselves forever. The horrific spinal injury to good mate and Newcastle Knights teammate Alex McKinnon was the catalyst that finally broke Darius. Realising he needed help for his anxiety, depression and suicidal thoughts, he turned his back on football, checked into a mental health facility and began to mend his life and himself. Now, as he heads into retirement, Darius Boyd is sharing his story, to celebrate his triumphs on the field but, more importantly for him, revealing how to deal with depression, overcome adversity and live with mental illness. He reflects on excerpts from his private journal which charted his journey from the depths of despair to a life of gratitude. It is a heartfelt message he now takes across the NRL and into boardrooms, schools and footy clubs in a quest to keep our young men alive.BATTLING THE BLUES is a raw, honest and inspiring memoir that takes us into the heart of an NRL champion and his fight to conquer his demons and live a better life.   ...Show more
$32.99
AUD
Category: Sport
 Some are born great, some achieve greatness, and some have greatness thrust upon them by virtue of their skills with ball and bat. This book is about the latter. Australia's favourite sport has a proud history of turning nobodies into somebodies and ordinary men and women into heroes of international r enown. From the black-and-white belligerence of Ian Chappell to the colourful celebrity of Shane Warne, the diplomacy of Adam Gilchrist to the ruthlessness of Meg Lanning, the pantheon of Australia's greatest cricketers is as mottled as the crowds that cheer them on. But who is the greatest of them all? In The 50 Greatest Australian Cricketers, sports journalist and comedy writer Dan Liebke charts the careers, characteristics and enduring legacies of the finest Australian cricket players of the past 50 years.  ...Show more
$39.99
AUD
Category: Sport | Series: Fifty Places Ser.
The author of the bestselling Fifty Places series returns with a globe-trotting guide to the best and most beautiful places to rock climb around the world   Fifty Places to Rock Climb Before You Die is a beautifully illustrated guide to some of the greatest rock-climbing locations around the world, as r ecommended by expert climbers. The book will cover three types of climbing--trad, sport, and bouldering--and will showcase breathtaking venues from Joshua Tree to Jeju, South Korea. Featuring insights from industry insiders, including employees from rock-climbing gear companies like Petzl and Black Diamond Equipment, professional climbers like Jon Cardwell and Kevin Jorgeson (co-star of Dawn Wall), filmmaker Michael Call, and Climbing magazine editor Matt Samet, Fifty Places to Rock Climb Before You Die is the essential travel companion for climbers of all levels of expertise. FEATURED LOCATIONS United States Horse Pens 40, Alabama Cochise Stronghold, Arizona Bishop, California Joshua Tree National Park, California Yosemite National Park, California Black Canyon of the Gunnison National Park, Colorado Rifle, Colorado City of Rocks, Idaho Elephant's Perch, Idaho Arco, Italy Red River Gorge, Kentucky Acadia National Park, Maine Baxter State Park, Maine Red Rock, Nevada North Conway, New Hampshire The Shawangunks, New York Wichita Mountains Wildlife Refuge, Oklahoma Smith Rock, Oregon Hueco Tanks State Park, Texas Maple Canyon, Utah Moab, Utah Zion National Park, Utah North Cascades, Washington New River Gorge, West Virginia Seneca Rocks, West Virginia Devil's Lake, Wisconsin Devils Tower, Wyoming Grand Teton National Park, Wyoming  Canada Bow Valley, Alberta The Bugaboos, British Columbia Squamish, British Columbia Lion's Head, Ontario International Frey, Argentina Mount Arapiles, Australia Innsbruck, Austria Liming, China Lake District National Park, England Chamonix, France Fontainebleau, France Frankenjura, Germany Kalymnos, Greece Castle Hill, New Zealand El Potrero Chico, Mexico Bled, Slovenia Rocklands, South Africa Gyeonggi-do/Jeju, South Korea Ibiza, Spain Mallorca, Spain Rätikon, Switzerland Railay Beach, Thailand ...Show more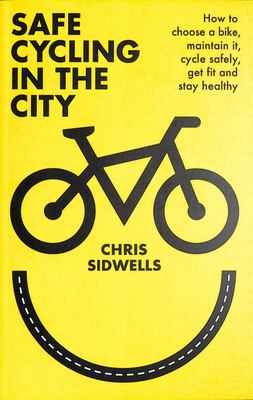 $22.99
AUD
Category: Sport
This is an urban and commuting cyclist's handbook, both inspirational and practical, showing us how to live safer, more enjoyable and healthier lives, both physically and mentally, while reducing our impact on the planet. Author of numerous bestselling bike books, Chris Sidwells, begins with a brief int roduction which shows how cycling is already forming a crucial part of future urban transport, good for the environment as well as our health. Current urban transport models, heavily dependent as they are on cars, are unsustainable both in terms of our health and the environment. Cycling offers the perfect mass transport, health and wellbeing solution. As well as being an easy way to improve the fitness of the whole family, with some simple know-how, which Chris shares in this book, it can be perfectly safe even in busy cities. Increasingly, local authorities are seeing the essential role that cycling has to play in transport infrastructure; Chris looks at the many different schemes, both financial and infrastructural, to encourage people onto bikes. Commuting by bike also offers a financial benefit to individuals and societies. Chris shows how to get the right bike for you for commuting and urban cycling, whether that's an electric-assisted bike or pedal-powered only, and how to adjust it properly for your unique build. He looks at cycling clothing and accessories, including helmets, masks, locks and safety equipment. Chris explains how to keep cycling safely despite inclement weather and the different ways to transport what you need to and from work. A chapter on bike care and maintenance shows how to carry out basic repair jobs like adjusting gears, mending punctures and adjusting brakes. Chris explains cycling skills to give you confidence when cycling, including bike control, braking and how to make the most of your gears. He shows when and how to use the extra power provided by an electric bike and offers encouragement to new and returning cyclists. An extended chapter covers road safety, perhaps the biggest barrier to people commuting by bike. Chris shows how to co-exist safely with other road users and the potential hazards that every cyclist should be aware of. He explains the rules that every cyclist must follow and gives step-by-step guidance on how to carry out manoeuvres on the road. Chris shows how to choose the best route to and from work. He gives details of the various schemes to encourage commuting by bike, including insurance and where to find information. Cycling is regarded by many as the best way to regain and maintain fitness. As well as improving both physical and mental wellbeing, cycling can boost our immune system. Cycling also gives self-sufficiency and enhances self esteem. ...Show more
$29.99
AUD
Category: Sport
A global history of swimming, from humankind's first dip in what is now the driest spot on earth to the 2020 Olympics.
One Life
by Megan Rapinoe
$34.99
AUD
Category: Sport
Megan Rapinoe is one of the world's most talented athletes. But beyond her massive professional success on the soccer field, Rapinoe has become an icon and ally to millions, boldly speaking out on the issues that matter most. In recent years, she's become one of the faces of the equal pay movement and h er tireless activism for LGBTQ rights has earned her global support. In One Life, Rapinoe embarks on a thoughtful and unapologetic discussion of social justice and politics. Raised in a conservative small town in northern California, the youngest of six, Rapinoe was four years old when she kicked her first soccer ball. Her parents encouraged her love for the game, but also urged her to volunteer at homeless shelters and food banks. Her passion for community engagement never wavered through high school or college, all the way up to 2016, when she took a knee during the national anthem in solidarity with former NFL player Colin Kaepernick, to protest racial injustice and police brutality - the first high-profile white athlete to do so. The backlash was immediate, but it couldn't compare to the overwhelming support. Rapinoe became a force of social change, both on and off the field. Using anecdotes from her own life and career, from suing the United States Soccer Federation alongside her teammates over gender discrimination to her widely publicized refusal to visit the White House, Rapinoe discusses the obligation we all have to speak up, and reveals the impact each of us can have on our communities. As she declared during the soccer team's victory parade in New York in 2019, " T his is everybody's responsibility, every single person here, every single person who is not here, every single person who doesn't want to be here, every single person who agrees and doesn't agree.... It takes everybody. This is my charge to everybody. Do what you can. Do what you have to do. Step outside yourself. Be more. Be better. Be bigger than you've ever been before." ...Show more
$35.00
AUD
Category: Sport | Series: Fifty Places Ser.
Fifty Places to Surf Before You Die is a beautifully illustrated guide to the most thrilling surfing destinations in the world. Covering quintessential beaches, including: Oahu's North Shore; Australia's Gold Coast; and of course, Malibu, California, the book also invites you to discover such unexpected gems as the Amazon and the Gulf of Alaska. From the frigid waters off Iceland's Reykjanes Peninsula to Nazar , Portugal, where in 2013 Garrett McNamara broke a world record for surfing the tallest wave (78 feet ), Fifty Places to Surf takes readers on a wide-roving adventure, divulging the details that make each venue unique--and plenty of tips for those who aspire to surf there. Featuring interviews with seasoned surfing experts such as pro surfer Joel Parkinson and Billabong executive Shannan North, Fifty Places to Surf Before You Die is an essential travel companion for surfers of all levels who are looking to catch that perfect wave. ...Show more
Belief
by Marlion Pickett; Dave Warner
$39.99
AUD
Category: Sport
From prison to premiership glory; this is Marlion Pickett's extraordinary story. It's the third quarter in the biggest game of the season. A young man lines up for goal.  The 100,000 strong crowd leaps to its feet and roars as Marlion Pickett sends the ball soaring through the goalposts for his first e ver major, celebrated by every teammate, a tradition upheld even on Grand Final day. It was the 2019 AFL Grand Final, and Richmond's Marlion Pickett was making history as the first player in over 50 years to debut on that 'one day in September'. Marlion helped the Tigers thrash the Greater Western Sydney Giants in their debut grand final appearance and was judged third best on ground, only six days after steering Richmond's VFL team with his best on ground performance to their nail biting Grand Final victory. Marlion Pickett's extraordinary story of redemption is a true fairy tale. The tale of a man who came back from the brink to triumph on Australian sport's biggest stage, a long-held dream come true. What's even more remarkable about Marlion's journey is how this young, troubled Aboriginal kid from Western Australia ever got his chance in the first place. A story all too sadly familiar – about drugs, crime, violence and time spent in jail – but also about a life picked up piece by piece through his own belief in himself and those around him who believed in him too. Belief also takes us inside the South Fremantle and Richmond Football clubs – clubs that have made stars and cult heroes out of other Indigenous players; clubs willing to overlook a talented kid's troubled past to give him a chance. We meet the fellow players and support network who stood by Marlion's side as he fought back against injury and the doubters and proudly ran onto the field at the MCG. Marlion's resilience and strength is inspirational. His is an unforgettable Australian story of triumph over adversity.   ...Show more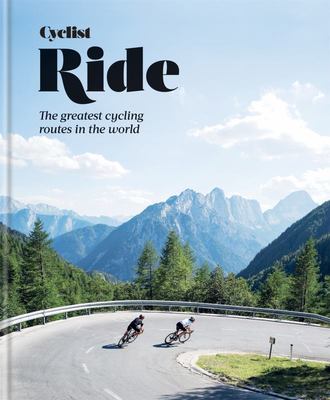 $59.99
AUD
Category: Sport
The world's most epic bike rides from the world's biggest road cycling magazine.   Explore 50 of the greatest, most thrilling road cycling routes the world has to offer, guided by the experts at the world's biggest road cycling magazine, Cyclist.   Route maps, first-hand ride reports and truly brea thtaking photography from the finest cycling photographers come together in this celebration of the world on two wheels.   Covering the very best of Europe, from the twisting trails of northern Norway to the winding coast of southern Spain, this beautiful book also includes rides from as far afield as Vietnam, Ethiopia and Lebanon, as well as the USA.   ...Show more
$32.99
AUD
Category: Sport
Footy legend Kevin Sheedy crosses team alliances to profile the 21 most iconic Aussie Rules players and coaches of his lifetime. He also sits down for interviews with nine icons he has long admired and who don't normally (for various reasons) have their stories told. Packed full of wisdom and wit, insig ht and memories, Icons of Footy is a treasure-trove for football fans of all tribes and ages, from one of the most unique and colourful characters in Australian sport. This beautifully-packaged paperback includes: Gary Ablett Senior, Allen Aylett, Ron Barassi, Kevin Bartlett, Malcolm Blight, Barry Cable, Wayne Carey, Alastair Clarkson, Jason Dunstall, Graham Farmer, Lance Franklin, Adam Goodes, Royce Hart, Francis Hughes, James Hird, Alex Jesaulenko, Leigh Matthews, Kevin Murray, John Nicholls, Barrie Robran, Michael Tuck. ...Show more
$32.99
AUD
Category: Sport
Written by a New York Times bestselling author and reporter who "knows the world of professional golf...like few others" (The Wall Street Journal) comes "the most insightful and evenhanded book written yet about one of the signature athletes of the last twenty-five years" (Booklist, starred review) deta iling Tiger Woods's remarkable comeback and his journey back into winner's circle. Tiger Woods's long descent into a personal and professional hell reached bottom in the early hours of Memorial Day in 2017. Woods's DUI arrest that night came on the heels of a desperate spinal surgery, just weeks after he told close friends he might never play tournament golf again. His mug shot and alarming arrest video were painful to look at and, for Woods, a deep humiliation. The former paragon of discipline now found himself hopelessly lost and out of control, exposed for all the world to see. That episode could have marked the beginning of Tiger's end. It proved to be the opposite. Instead of sinking beneath the public disgrace of drug abuse and the private despair of a battered and ailing body, Woods embarked on the long road to redeeming himself. In The Second Life of Tiger Woods, Michael Bamberger, who has covered Woods since the golfer was an amateur, draws upon his deep network of sources inside locker rooms, caddie yards, clubhouses, fitness trailers, and back offices to tell the true and inspiring story of the legend's return. Packed with new information and graced by insight, Bamberger's story reveals how this iconic athlete clawed his way back to the top. This is a "gripping" (Kirkus Reviews) and intimate portrait of a man who has spent his life in front of the camera but has done his best to make sure he was never really known. Here is Tiger, barefoot, in handcuffs, showing a police officer a witty and self-deprecating side of himself that the public never sees. Here is Tiger on the verge of tears with his children at the British Open. Here is Tiger trying to express his gratitude to his mother at a ceremony at the Rose Garden. In these pages, Tiger is funny, cold, generous, self-absorbed, inspiring--and real. The Second Life of Tiger Woods is not only the saga of an exceptional man but also a celebration of second chances. Bamberger's bracingly honest book is about what Tiger Woods did, and about what any of us can do, when we face our demons head-on. ...Show more
$45.00
AUD
Category: Sport
Australia's best surf writer brings to life the wild, bold, brave story of Australian surfing from the 60s to the present through the stories of Surfing Australia's Hall of Fame surfers and contemporary surfing legends. Golden Daze is a compelling memoir of Australian surfing through a year in the life of Australia's top surfers. Starting in 1963, renowned surfing journalist Sean Doherty charts the history of surfing through the stories of Surfing Australia's Hall of Fame inductees. Taking a year and a surfer at a time, he will reveal what they did, where they surfed and their life events in fascinating depth and detail. Illustrated with unpublished images from the surfers' private collections, these stories also give a vivid sense of the shifting world around them, particularly in the ever-changing realm of surfing. Golden Daze opens in 1963 with Peter Troy jumping ship in Melbourne with a surfboard under his arm, embarking on his fabled surfing odyssey that saw him introducing surfing to Brazil, being crowned European champion, hitching alone across the Kalahari Desert and watching an unknown band from Liverpool called the Beatles. 1964 is Midget Farrelly's story of winning the first world title on home sand at Manly Beach. In 1969 Wayne Lynch goes down the coast, avoiding the Vietnam draft. And in 1971, Alby Falzon stumbles upon the island of Bali while shooting his humble surf movie Morning of the Earth. The book brings to life the 60s, 70s, 80s, 90s and noughties through the eyes of the Australian surfers who defined them best, ending today with stories of potential Hall of Famers, contemporary stars like Mick Fanning, Joel Parkinson and Tyler Wright. Part journal, part biography, part surf culture memoir, Golden Daze gives a fascinating insight into Australian surfing and what makes it so unique. ...Show more