Resipio: tang, tinge, savour.
These books bring to mind a quote from Deborah Levy, 'The writing you are reading now is made from the cost of living.'
Carefully savour this selection: read, rinse and repeat.
$19.99
AUD
Category: Biography & Memoir
'A beautiful memoir in which Oliver Sacks comes wonderfully to life ... Exquisitely wrought, heartrending and joyous' Joyce Carol OatesBill Hayes came to New York in 2009 with a one-way ticket and only the vaguest idea of how he would get by. But, at forty-eight years old, having spent decades in San Fr ancisco, he craved change. Grieving over the death of his partner, he quickly discovered the profound consolations of the city 's incessant rhythms, the sight of the Empire State Building against the night sky, and New Yorkers themselves, kindred souls that Hayes, a lifelong insomniac, encountered on late-night strolls with his camera. And he unexpectedly fell in love again, with his friend and neighbor, the writer and neurologist Oliver Sacks, whose exuberance is captured in funny and touching vignettes throughout. What emerges is a portrait of Sacks at his most personal and endearing, from falling in love for the first time at age seventy-five to facing illness and death (Sacks died of cancer in August 2015). Insomniac City is both a meditation on grief and a celebration of life. Filled with Hayes 's distinctive street photos of everyday New Yorkers, the book is a love song to the city and to all who have felt the particular magic and solace it offers. ...Show more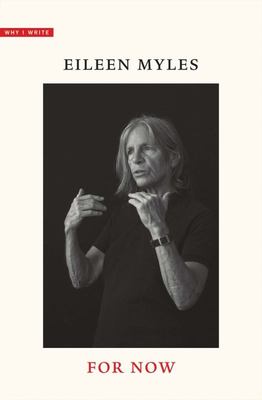 $39.99
AUD
Category: Essays, Language & Writing | Series: Why I Write Ser.
"[Myles] has a good time journeying through Hell, and like a hip Virgil, . . . is happy to show us the way."--NPR   In this raucous meditation, Eileen Myles offers an intimate glimpse into creativity's immediacy. With erudition and wit, Myles recounts their early years as an awakening writer; existentia l struggles with landlords; storied moments with neighbors, friends, and lovers; and the textures and identities of cities and the country that reveal the nature of writing as presence in time.   For Myles, time's "optic quality" is what enables writing in the first place--as attention, as devotion, as excess. It is this chronologized vision that enables the writer to love the world as it presently is, lending love a linguistic permanence amid social and political systems that threaten to eradicate it. Irreverent, generous, and always insightful, For Now is a candid record of the creative process from one of our most beloved artists. ...Show more
$35.00
AUD
Category: Festive Gift Guide
One of the most inspiring and counter-intuitive thinkers of our age, the bestselling author of Seven Brief Lessons on Physics, transforms the way we think about the world with his reflections on science, history and humanity In this collection of writings, the logbook of an intelligence always on the mo ve, Carlo Rovelli follows his curiosity and invites us on a voyage through science, history, philosophy and politics. Written with his usual clarity and wit, these pieces range widely across time and space: from Newton's alchemy to Einstein's mistakes, from Nabokov's butterflies to Dante's cosmology, from travels in Africa to the consciousness of an octopus, from mind-altering psychedelic substances to the meaning of atheism. Charming, pithy and elegant, this book is the perfect gateway to the universe of one of the most influential scientists of our age. ...Show more
$19.99
AUD
Category: Science & Nature
Time is a mystery that does not cease to puzzle us. Philosophers, artists and poets have long explored its meaning while scientists have found that its structure is different from the simple intuition we have of it. From Boltzmann to quantum theory, from Einstein to loop quantum gravity, our understandi ng of time has been undergoing radical transformations. Time flows at a different speed in different places, the past and the future differ far less than we might think, and the very notion of the present evaporates in the vast universe. ...Show more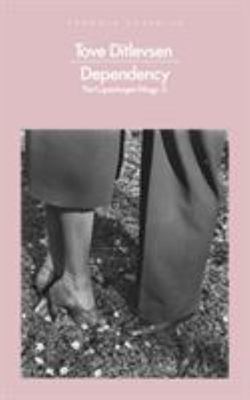 Dependency
by Tove Ditlevsen; Anon
$22.99
AUD
Category: Biography & Memoir | Series: Penguin Modern Classics Ser.
Tove is only twenty, but she's already famous, a published poet and wife of a much older literary editor. Her path in life seems set, but she has no idea of the struggles that lie ahead - love affairs, an unwanted pregnancy, physical pain and crippling opioid addiction. As the years go by, the central t ension of Tove's life comes into painful focus- the terrible lure of dependency, in all its forms, and the possibility of living life freely and fearlessly - as an artist on her own terms. The final volume in Ditlvesen's autobiographical trilogy and perhaps her masterpiece, Dependency is a dark and blisteringly honest account of addiction, and the way out. ...Show more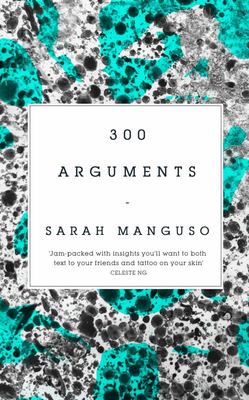 $17.99
AUD
Category: Essays, Language & Writing
'Jam-packed with insights you'll want to both text to your friends and tattoo on your skin . . . A sweeping view of a human mind trying to make order of the world around us.' Celeste Ng, author of Little Fires EverywhereThink of this as a short book composed entirely of what I hoped would be a long book 's quotable passages.300 Arguments is at first glance a group of unrelated aphorisms, but the pieces reveal themselves as a masterful arrangement that steadily gathers power. Manguso's arguments about writing, desire, ambition, relationships, and failure are pithy, unsentimental, and defiant, and they add up to an unexpected and renegade wisdom literature. Lines you will underline, write in notebooks and read to the person sitting next to you, that will drift back into your mind as you try to get to sleep.'300 Arguments reads like you've jumped into someone's mind.' NPR ...Show more
Blakwork
by Alison Whittaker
$24.99
AUD
Category: Poetry
A stunning mix of memoir, reportage, fiction, satire, and critique composed by a powerful new voice in poetry. Alison Whittaker's BLAKWORK is an original and unapologetic collection from which two things emerge; an incomprehensible loss, and the poet's fearless examination of the present. Whittaker is unsparing in the interrogation of familiar ideas - identifying and dissolving them with idiosyncratic imagery, layering them to form new connections, and reinterpreting what we know. 'Alison Whittaker's second book, Blakwork is a bold mix of poetry, micro-fiction, memoir and critique, and a follow-up to her award-wining debut poetry collection, Lemons in the Chicken Wire...Whittaker has drawn on the strength of past generations to become a strong blak woman in contemporary Australia, and readers are gifted her insights into growing up blak. With a unique style of writing, she bravely unpacks themes such as colonisation and Aboriginal rights in Australia.' -- Karen Wyld, Books+Publishing   ...Show more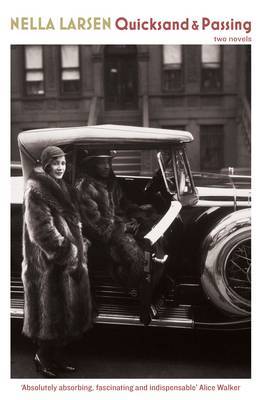 $19.99
AUD
Category: Classics | Series: Serpent's Tail Classics
A writer of the Harlem Renaissance, Nella Larsen wrote just two novels, published here, and a handful of short stories. Critically acclaimed, both speak powerfully of the contradictions and restrictions experienced by black women at that time. Quicksand, written in 1928, is an autobiographical novel abo ut Helga Crane, a mixed race woman caught between fulfilling her desires and gaining respectability in her middle class neighbourhood. Written a year later, Passing tells the story of two childhood friends, Clare and Irene, both light skinned enough to pass as white. Reconnecting in adulthood, Clare has chosen to live as a white woman, while Irene embraces black culture and has an important role in her community. Nella Larsen's novels are moving, characterful, and important books. She pioneered writing about the conflicts of sexuality, race and the secret suffering of women in the early twentieth century. ...Show more
Bluets
by Maggie Nelson
$22.99
AUD
Category: Poetry
Bluets winds its way through depression, divinity, alcohol, and desire, visiting along the way with famous blue figures, including Joni Mitchell, Billie Holiday, Yves Klein, Leonard Cohen, and Andy Warhol. While its narrator sets out to construct a sort of 'pillow book' about her lifelong obsession with the colour blue, she ends up facing down both the painful end of an affair and the grievous injury of a dear friend. The combination produces a raw, cerebral work devoted to the inextricability of pleasure and pain, and to the question of what role, if any, aesthetic beauty can play in times of great heartache or grief. Much like Roland Barthes's A Lover's Discourse, Bluets has passed between lovers in the ecstasy of new love, and been pressed into the hands of the heartbroken. Visceral, learned, and acutely lucid, Bluets is a slim feat of literary innovation and grace, never before published in the UK. ...Show more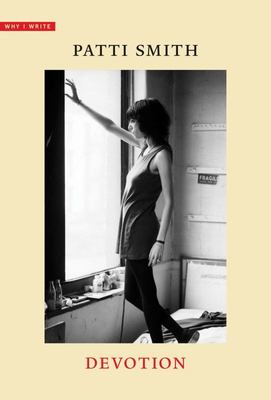 $17.99
AUD
Category: Essays, Language & Writing | Series: Why I Write Ser.
From the renowned artist and author Patti Smith, a rare and generous look into the creative process A work of creative brilliance may seem like magic--its source a mystery, its impact unexpectedly stirring. How does an artist accomplish such an achievement, connecting deeply with an audience never met? In this groundbreaking book, one of our culture's beloved artists offers a detailed account of her own creative process, inspirations, and unexpected connections. Patti Smith first presents an original and beautifully crafted tale of obsession--a young skater who lives for her art, a possessive collector who ruthlessly seeks his prize, a relationship forged of need both craven and exalted. She then takes us on a second journey, exploring the sources of her story. We travel through the South of France to Camus's house, and visit the garden of the great publisher Gallimard where the ghosts of Mishima, Nabokov, and Genet mingle. Smith tracks down Simone Weil's grave in a lonely cemetery, hours from London, and winds through the nameless Paris streets of Patrick Modiano's novels. Whether writing in a caf or a train, Smith generously opens her notebooks and lets us glimpse the alchemy of her art and craft in this arresting and original book on writing. The Why I Write series is based on the Windham-Campbell Lectures, delivered annually to commemorate the awarding of the Donald Windham-Sandy M. Campbell Literature Prizes at Yale University. ...Show more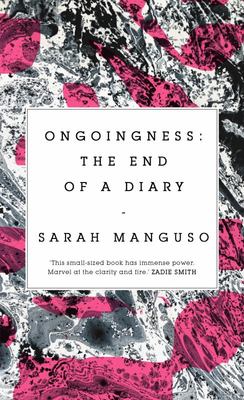 $0.00
AUD
Category: Biography & Memoir
'This small-sized book has immense power. Marvel at the clarity and fire.' Zadie SmithSarah Manguso kept a meticulous diary for twenty-five years. 'I wanted to end each day with a record of everything that had ever happened,' she explains. But this simple statement belies a terror that she might forget something, that she might miss something important. Maintaining that diary, of eight hundred thousand words, became a daily attempt to remember, to fix the passage of time. Then Manguso became pregnant and had a child, and these two events caused a monumental shift that changed her relationship to time and to mortality, and also to her diary. Ongoingness is a beautiful, daring, honest and shifting work that grapples with writing, motherhood and time. ...Show more
$29.95
AUD
Category: Essays, Language & Writing
The follow-up to Fiona Wright's essay collection Small Acts of Disappearance, - winner of the Nita B. Kibble Award and the Queensland Literary Award for Non-fiction shortlisted for the Stella Prize and the NSW Premier's Award for Non-fiction. Our bodies and homes are our shelters, each one intimately a part of the other. But what about those who feel anxious, uncomfortable, unsettled within these havens? In The World Was Whole, Fiona Wright examines how we inhabit and remember the familiar spaces of our homes and suburbs, as we move through them and away from them into the wider world, devoting ourselves to the routines and rituals that make up our lives. These affectingly personal essays consider how all-consuming the engagement with the ordinary can be, and how even small encounters and interactions can illuminate our lives. Many of the essays are set in the inner and south-western suburbs of a major Australian city in the midst of rapid change. Others travel to the volcanic coastline of Iceland, the mega-city of Shanghai, the rugged Surf Coast of southern Victoria. The essays are poetic and observant, and often funny, animated by curiosity and candour. Beneath them all lies the experience of chronic illness and its treatment, and the consideration of how this can reshape and reorder our assumptions about the world and our place within it. ...Show more