The Little Prince HC Library Edition
by Antoine de Saint-Exupery; Ros Schwarz (Translator); Chloe Schwarz (Translator)
$44.99
AUD
Category: Classics | Series: Macmillan Collector's Library
'The most beautiful things in the world cannot be seen or touched, they are felt with the heart.' A special edition of The Little Prince from the Macmillan Collector's Library series. Larger than usual, this gorgeous hardback is bound in real cloth and encased in a bespoke slipcase. It features a specia lly commissioned translation by Ros and Chloe Schwarz, as well as the charming original illustrations by Saint-Exupéry himself in colour. After crash-landing in the Sahara Desert, a pilot encounters a little prince who is visiting Earth from his own planet. Their strange and moving meeting illuminates for the aviator many of life's universal truths, as he comes to learn what it means to be human from a child who is not. Antoine de Saint-Exupéry's delightful The Little Prince has been translated into over 180 languages and sold over 80 million copies. ...Show more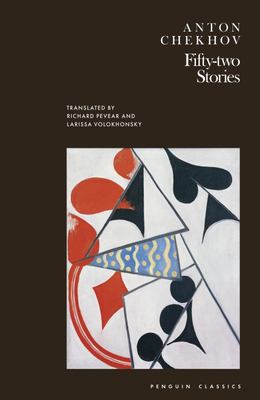 $49.99
AUD
Category: Classics
Chekhov's genius left an indelible impact on every literary form in which he wrote, but none more so than short fiction. Now renowned translators Richard Pevear and Larissa Volokhonsky give us their superb renderings of fifty-two Chekhov stories. These stories, which span the full arc of his career, rev eal the extraordinary variety of his work, from the farcically comic to the darkly complex. Including several never-before-translated stories, this is a collection that promises to delight. ...Show more
Last Witnesses: Unchildlike Stories
by Svetlana Alexievich; Richard Pevear (Translator); Larissa Volokhonsky (Translator)
$22.99
AUD
Category: Classics | Series: Penguin Modern Classics Ser.
What did it mean to grow up in the Soviet Union during the Second World War? In the late 1970s, Svetlana Alexievich started interviewing people who had experienced war as children, the generation that survived and had to live with the trauma that would forever change the course of the Russian nation. W ith remarkable care and empathy, Alexievich gives voice to those whose stories are lost in the official narratives, uncovering a powerful, hidden history of one of the most important events of the twentieth century. Published to great acclaim in the Soviet Union in 1985 and now available in English for the first time, this masterpiece offers a kaleidoscopic portrait of the human consequences of the war - and an extraordinary chronicle of the Russian soul. ...Show more
$35.00
AUD
Category: Classics | Series: Penguin Clothbound Classics Ser.
"Mrs. Dalloway was the first novel to split the atom. ... It is one of the most moving, revolutionary artworks of the twentieth century." (Michael Cunningham, author of The Hours.) "Virginia Woolf was one of the great innovators of that decade of literary Modernism, the 1920s. Novels such as Mrs Dallowa y and To the Lighthouse showed how experimental writing could reshape our sense of ordinary life. Taking unremarkable materials - preparations for a genteel party, a day on a bourgeois family holiday - they trace the flow of associations and ideas that we call 'consciousness'." - The Guardian"Mrs Dalloway, ... a book for a lifetime" -- Christine Dwyer Hickey.Mrs Dalloway describes a day in 1923 in the life of an upper-class Londoner, Clarissa Dalloway, as she prepares for a party she is hosting. In lyrical language, Virginia Woolf describes Clarissa, her memories, day-dreams, regrets and fears, to masterfully entwine the past, present and future in what is regarded as one of the great novels of the twentieth century. "The novel's opening pages are probably the most ecstatic representation of running errands in the Western canon." (Evan Kindley). The novel is essentially plotless; using the springboard of the mundane preparations for a society party, it travels backwards and forwards through time, drawing the reader into the consciousness of the characters.Mrs Dalloway, perhaps Virginia Woolf's most popular work, and perhaps semiautobiographical, is a book worth reading and rereading.Virginia Woolf was of course a great novelist, but she has influenced literature in many ways. She and her husband Leonard Woolf set up and ran the Hogarth Press which published works by key modernist writers as well as important works in translation. In their first five years they published Katherine Mansfield, T. S. Eliot, E. M. Forster, Clive Bell, Roger Fry and Sigmund Freud, but also rejected James Joyce's Ulysses. She reviewed extensively and wrote on the art of writing and on the form of the novel. Through her stylistic innovations like the stream of consciousness, Virginia Woolf, like James Joyce, changed the course of literature. ...Show more
$19.99
AUD
Category: Classics | Series: Penguin Modern Classics Ser.
Copenhagen, 1968. Lise, a children's book writer and married mother of three, is becoming increasingly haunted by disembodied faces and taunting voices. Convinced that her housekeeper and husband are plotting against her, she descends into a terrifying world of sickness, pills and institutionalization. But is sanity in fact a kind of sickness? And might mental illness itself lead to enlightenment? Brief, intense and haunting, Ditlevsen's novel recreates the experience of madness from the inside, with all the vividness of lived experience. ...Show more
$14.99
AUD
Category: Classics | Series: Penguin Classics
The night after a shooting star is seen streaking through the sky from Mars, a cylinder is discovered on Horsell Common in London. At first, naive locals approach the cylinder armed just with a white flag only to be quickly killed by an all-destroying heat-ray, as terrifying tentacled invaders emerge. S oon the whole of human civilisation is under threat, as powerful Martians build gigantic killing machines, destroy all in their path with black gas and burning rays, and feast on the warm blood of trapped, still-living human prey. The forces of the Earth, however, may prove harder to beat than they at first appear. ...Show more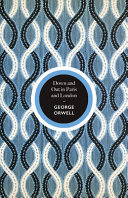 $24.99
AUD
Category: Classics
Volume 1 of The Complete Works of George Orwell Few authors can have striven so hard to make themselves professional writers as did George Orwell. As a child he talked of becoming a writer; he wrote for student publications at Eton; whilst serving in the Imperial Police in Burma he sketched out ideas f or Burmese Days; on returning to Europe, he spent two years in Paris struggling to write. Down and Out in Paris and London was the outcome of those years in Paris and of months tramping south-east England. Whilst not quite autobiography, it does give a vivid picture of the kind of life he led 'in the lower depths', and exemplifies his belief that 'The greatest of evils and the worst of crimes is poverty. ' Orwell thought of calling this first book 'Confessions of a Dishwasher', and he hesitated for some time over the pseudonym under which it was published, the name by which, in due time, he was to achieve worldwide fame- George Orwell. This edition of Down and Out in Paris and London differs in many ways from all earlier editions and retores material censored by its original publisher in 1933. ...Show more
$19.99
AUD
Category: Classics | Series: Penguin Modern Classics
As he lay dying, George Orwell summoned his publisher Fred Warburg to his bedside. No longer capable of holding a pen, the writer dictated a message to the public about the world of his new novel, Nineteen Eighty-Four. 'Don?t let it happen,? he concluded. 'It depends on you.?In an age of inescapable sur veillance, fake news, alternative facts, would-be Big Brothers and endless low-level wars, Orwell?s warning still speaks to us today, and with greater force than ever before.Republished with a new introduction by Dennis Glover, author of The Last Man in Europe, Orwell?s prophetic masterpiece is truly a story for our times. Orwell?s courage and his refusal to be silenced inspire hope that, ultimately, the spirit of humanity will win through. ...Show more
Emma
by Jane Austen
$12.99
AUD
Category: Classics | Series: Classics Ser.
Oft-copied but never bettered, Jane Austen's Emma is a remarkable comedy of manners that follows the charming but insensitive Emma Woodhouse as she sets out on an ill-fated career of match-making in the little town of Highbury. Taking the pretty but dreary Harriet Smith as her subject, Emma creates misu nderstandings and chaos as she tries to find Harriet a suitor, until she begins to realize it isn't the lives of others she must try to transform. Gorgeously illustrated by the celebrated Hugh Thomson, this Macmillan Collector's Library edition also includes an afterword by David Pinching. Designed to appeal to the booklover, the Macmillan Collector's Library is a series of beautiful gift editions of much loved classic titles. Macmillan Collector's Library are books to love and treasure. ...Show more
$24.99
AUD
Category: Classics | Series: American Library
Disdainful of America's booming commercialism and industrialism, Henry David Thoreau left Concord, Massachusetts, in 1845 to live in solitude in the woods near Walden Pond. Walden, the account of his stay, conveys at once a naturalist's wonder at the commonplace and a Transcendentalist's yearning for sp iritual truth and self-reliance. But, even as Thoreau disentangled himself from worldly matters, his musings were often disturbed by his social conscience. Civil Disobedience, also included in this volume, expresses his antislavery and antiwar sentiments, and has influenced non-violent resistance movements worldwide. Both give a rewarding insight into a free-minded, principled and idiosyncratic man. ...Show more
$14.99
AUD
Category: Classics
Written when Ernest Hemingway was thirty years old and lauded as the best American novel to emerge from World War I, A Farewell to Arms is the unforgettable story of an American ambulance driver on the Italian front and his passion for a beautiful English nurse. Set against the looming horrors of the ba ttlefield - weary, demoralised men marching in the rain during the German attack on Caporetto; the profound struggle between loyalty and desertion - this gripping, semi-autobiographical work captures the harsh realities of war and the pain of lovers caught in its inexorable sweep. Ernest Hemingway famously said that he rewrote the ending to A Farewell to Arms thirty-nine times to get the words right. This edition collects all of the alternative endings together for the first time, along with early drafts of other essential passages, offering new insight into Hemingway's craft and creative process and the evolution of one of the greatest novels of the twentieth century. Featuring the Nobel Prize winner's own 1948 introduction to an illustrated reissue of the novel, a personal foreword by the author's son Patrick Hemingway, and a new introduction by the author's grandson Sean Hemingway, this edition of A Farewell to Arms is truly a celebration. ...Show more
$19.99
AUD
Category: Classics
WITH AN INTRODUCTION BY GILES FODEN London is under threat. It has become a haven for political exiles and anarchists. Frequent bomb threats and disturbances interrupt the lives of the city's inhabitants, who live in fear of the terrorists in their midst. One such terrorist is Verloc. He is the secret a gent who is given the mission to strike right at the heart of London's pride by blowing up Greenwich Observatory. But his decision to drag his innocent family into the plot leads to tragic consequences on a more personal than political level. ...Show more