We all need stories, good stories.
Here are some that have kept us turning pages deep into the night.
If you've been talking to one of our booksellers in store, there's a good chance we've mentioned these books more than once.
$19.99
AUD
Category: General Fiction
An instant New York Times Bestseller! Named one of the most anticipated books of 2019 by Vulture, Entertainment Weekly, Buzzfeed, Los Angeles Times, Boston Globe, Oprah.com, Huffington Post, The A.V. Club, Nylon, The Week, The Rumpus, The Millions, The Guardian, Publishers Weekly, and more. "A lyrical w ork of self-discovery that's shockingly intimate and insistently universal...Not so much briefly gorgeous as permanently stunning."--Ron Charles, The Washington Post Poet Ocean Vuong's debut novel is a shattering portrait of a family, a first love, and the redemptive power of storytelling On Earth We're Briefly Gorgeous is a letter from a son to a mother who cannot read. Written when the speaker, Little Dog, is in his late twenties, the letter unearths a family's history that began before he was born -- a history whose epicenter is rooted in Vietnam -- and serves as a doorway into parts of his life his mother has never known, all of it leading to an unforgettable revelation. At once a witness to the fraught yet undeniable love between a single mother and her son, it is also a brutally honest exploration of race, class, and masculinity. Asking questions central to our American moment, immersed as we are in addiction, violence, and trauma, but undergirded by compassion and tenderness, On Earth We're Briefly Gorgeous is as much about the power of telling one's own story as it is about the obliterating silence of not being heard. With stunning urgency and grace, Ocean Vuong writes of people caught between disparate worlds, and asks how we heal and rescue one another without forsaking who we are. The question of how to survive, and how to make of it a kind of joy, powers the most important debut novel of many years.   ...Show more
$32.99
AUD
Category: General Fiction
The Vignes twin sisters will always be identical. But after growing up together in a small, southern black community and running away at age sixteen, it's not just the shape of their daily lives that is different as adults, it's everything: their families, their communities, their racial identities. Te n years later, one sister lives with her black daughter in the same southern town she once tried to escape. The other secretly passes for white, and her white husband knows nothing of her past. Still, even separated by so many miles and just as many lies, the fates of the twins remain intertwined. What will happen to the next generation, when their own daughters' story lines intersect?  Weaving together multiple strands and generations of this family, from the Deep South to California, from the 1950s to the 1990s, Brit Bennett produces a story that is at once a riveting, emotional family story and a brilliant exploration of the American history of passing. Looking well beyond issues of race, THE VANISHING HALF considers the lasting influence of the past as it shapes a person's decisions, desires, and expectations, and explores some of the multiple reasons and realms in which people sometimes feel pulled to live as something other than their origins. ...Show more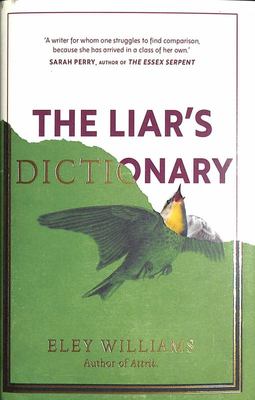 $32.99
AUD
Category: General Fiction
mountweazel n. a fake entry deliberately inserted into a dictionary or work of reference. Often used as a safeguard against copyright infringement. It is the final year of the nineteenth century and Peter Winceworth has reached the letter 'S', toiling away for the much-anticipated and multi-volume Swans by's New Encyclopaedic Dictionary. He is overwhelmed at his desk and increasingly uneasy that his colleagues are attempting to corral language and regiment facts. Compelled to assert some sense of individual purpose and exercise artistic freedom, Winceworth begins inserting unauthorised, fictitious entries into the dictionary. In the present day, young intern Mallory is tasked with uncovering these mountweazels as the text of the dictionary is digitised for modern readers. Through the words and their definitions she finds she has access to their creator's motivations, hopes and desires. More pressingly, she must also field daily threatening anonymous phone calls. Is a suggested change to the dictionary's definition of marriage (n.) really that controversial? What power does Mallory have when it comes to words and knowing how to tell the truth? And does the caller really intend for the Swansby's staff to 'burn in hell'? As their two narratives combine, Winceworth and Mallory must discover how to negotiate the complexities of an often nonsensical, untrustworthy, hoax-strewn and undefinable life. The Liar's Dictionary explores themes of trust and creativity, naming the unnameable, and celebrates the rigidity, fragility and absurdity of language. It is an exhilarating debut novel from a formidably brilliant young writer. ...Show more
$29.99
AUD
Category: Festive Gift Guide
Shortlisted for Palestine Book Award Nahr has been confined to the Cube- nine square metres of glossy grey cinderblock, devoid of time, its patterns of light and dark nothing to do with day and night. Journalists visit her, but get nowhere; because Nahr is not going to share her story with them. The wor ld outside calls Nahr a terrorist, and a whore; some might call her a revolutionary, or a hero. But the truth is, Nahr has always been many things, and had many names. She was a girl who learned, early and painfully, that when you are a second class citizen love is a kind of desperation; she learned, above all else, to survive. She was a girl who went to Palestine in the wrong shoes, and without looking for it found what she had always lacked in the basement of a battered beauty parlour- purpose, politics, friends. She found a dark-eyed man called Bilal, who taught her to resist; who tried to save her when it was already too late. Nahr sits in the Cube, and tells her story to Bilal. Bilal, who isn't there; Bilal, who may not even be alive, but who is her only reason to get out. 'A thrilling, defiant novel' FATIMA BHUTTO 'A masterpiece' MARC LAMONT HILL 'Wonderful ... Shines a ray of hope into some very dark places' MICHAEL PALIN 'A fearless work of imagination' AHDAF SOUEIF  ...Show more
$19.99
AUD
Category: Biography & Memoir | Series: Living Autobiography Ser.
Longlisted for the 2019 Andrew Carnegie Medal for Excellence in Nonfiction From the twice-Booker-shortlisted author comes a witty and audacious examination of writing and womanhood "Life falls apart. We try to get a grip. We try to hold it together. And then we realize that we don't want to hold it toge ther." Crystalline, witty and audacious, The Cost of Living addresses itself to the dual experiences of writing and of womanhood, examining what is essential in each. Following the acclaimed Things I Don't Want to Know, which reflected deeply on the nature of gender politics and a life in letters, The Cost of Living returns to the same subject and to the same life, to find a writer in radical flux. If a woman dismantles her life, expands it and puts it back together in a new shape, how might she describe this new composition? "Words have to open the mind. When words close the mind you can be sure that someone has been reduced to nothingness."      In this elegiac second instalment of her "living autobiography", Deborah Levy considers what it means to live with value and meaning and pleasure. The Cost of Living is a vital and astonishing testimony, as distinctive, wide-ranging and original as Levy's acclaimed novels. ...Show more
Ghosts
by Dolly Alderton
$32.99
AUD
Category: General Fiction
32-year-old Nina Dean is a successful food writer with a loyal online following, but a life that is falling apart. When she uses dating apps for the first time, she becomes a victim of ghosting, and by the most beguiling of men. Her beloved dad is vanishing in slow motion into dementia, and she's starti ng to think about ageing and the gendered double-standard of the biological clock. On top of this she has to deal with her mother's desire for a mid-life makeover and the fact that all her friends seem to be slipping away from her . . . Dolly Alderton's debut novel is funny, tender and painfully relatable, filled with whip-smart observations about relationships and the way we live today. ...Show more
$39.99
AUD
Category: Food & Drink
Family food is generous, unfussy and demonstrates love and care. No matter what busyness the day brings, the act of setting the table and enjoying a simple meal together is comforting and ever-reassuring. Eating simply and seasonally is at the core of Julia Busuttil Nishimura's recipes. Whether it's a c ooling coffee granita to start a summer's day or the comfort of a hearty baked maccheroni in darkest winter, this is the kind of food you will want to share with your loved ones throughout the year. The dishes in this book are brought to life by great ingredients. There are plenty of quick recipes and some that require more time to bubble away on the stove. Overall, they are linked by taste and pleasure, and making the most of seasonal produce. This is generous, delicious food that the whole family will love, all year round. Recipes include: Summer - Crêpes with whipped ricotta - Slow-roasted tomatoes with mint and mozzarella - Spaghetti with fennel and prawns - Apricot and berry galette Autumn - Granola with poached plums - Spiced split lentil soup with fried eggplant - Miso roast chicken - Blackberry and apple pudding Winter - Congee - Lentil and maple-roasted carrot salad - Japanese braised pork - Dark chocolate, walnut and oat cookies Spring - Tokyo-style French toast - Silverbeet and ricotta malfatti with brown butter sauce - Lamb and green bean stew - Simple butter cake with raspberries ...Show more
$19.99
AUD
Category: Fiction
When a photographer captures Marlene Dietrich, Anna May Wong and Leni Riefenstahl in one frame at a party in Berlin in 1928, no one realizes the extent to which their lives will reflect the tumultuous decades that follow. Marlene crosses the Atlantic to find fame in Hollywood, the town that eats out of the palm of her hand till her wrinkles begin to show. After establishing her position as a filmmaker, Leni watches her fame turn to notoriety following the defeat of Nazi Germany. Nine and a half times out of ten films, the side characters played by Anna May must die so the white male lead can be returned to his white paramour on the screen. In the murky world these women navigate, their choices will be held up to the test of time. And the real question is, how much has anything changed? This fierce and exquisite debut about womanhood, ambition, and art, played out against the shifting political tides of the twentieth century, introduces a mesmerizing new literary talent for our times. CHOSEN AS ONE OF 2019'S MOST ANTICIPATED TITLES FOR BY ELLE, THILLIST, USA TODAY, LITHUB, KIRKUS AND LA TIMES ...Show more
$32.99
AUD
Category: Festive Gift Guide
In Consolation, Tiverton's only police officer Constable Paul Hirschhausen is dealing with a snowdropper. Someone is stealing women's underwear, and Hirsch knows how that kind of crime can escalate. Then two calls come in: a teacher who thinks a child may be in danger at home. A father on the rampage ov er at the primary school. Hirsch knows how things like that can escalate, too. Families under pressure. Financial problems. But it's always a surprise when the killing starts. ...Show more
$29.99
AUD
Category: Festive Gift Guide
From one of the most dazzling and essential voices in American fiction, a timely and compelling novel set in the near future about five people gathered together in a Manhattan apartment, in the midst of a catastrophic event. Don DeLillo completed this novel just weeks before the advent of Covid-19. The Silence is the story of a different catastrophic event. Its resonances offer a mysterious solace. It is Super Bowl Sunday in the year 2022. Five people, dinner, an apartment on the east side of Manhattan. The retired physics professor and her husband and her former student waiting for the couple who will join them from what becomes a dramatic flight from Paris. The conversation ranges from a survey telescope in North-central Chile to a favorite brand of bourbon to Einstein's 1912 Manuscript on the Special Theory of Relativity. Then something happens and the digital connections that have transformed our lives are severed. What follows is a dazzling and profoundly moving conversation about what makes us human. Never has the art of fiction been such an immediate guide to our navigation of a bewildering world. Never have DeLillo's prescience, imagination, and language been more illuminating and essential. ...Show more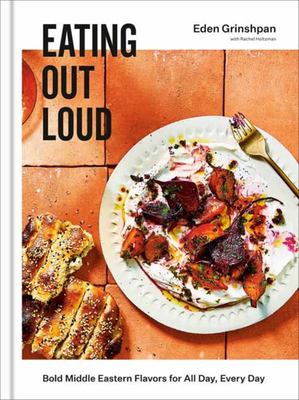 $57.99
AUD
Category: Food & Drink
Discover a playful new take on Middle Eastern cuisine with more than 100 fresh, flavorful recipes. "Finally Eden Grinshpan is letting us in on her secrets of her healthful and deliriously delicious cooking. Giant flavors, pops of color everywhere and dishes you'll crave forever. It's the Eden way "--B obby Flay Eden Grinshpan's accessible cooking is full of bright tastes and textures that reflect her Israeli heritage and laid-back but thoughtful style. In Eating Out Loud, Eden introduces readers to a whirlwind of exciting flavors, mixing and matching simple, traditional ingredients in new ways: roasted whole heads of broccoli topped with herbaceous yogurt and crunchy, spice-infused dukkah; a toasted pita salad full of juicy summer peaches, tomatoes, and a bevy of fresh herbs; and babka that becomes pull-apart morning buns, layered with chocolate and tahini and sticky with a salted sugar glaze, to name a few. For anyone who loves a big, boisterous spirit both on the plate and around the table, Eating Out Loud is the perfect guide to the kind of meal--full of family and friends eating with their hands, double-dipping, and letting loose--that you never want to end. ...Show more
$29.99
AUD
Category: General Fiction
Bea's five-year-old daughter, Agnes, is wasting away, ravaged by the smog and pollution of the overdeveloped, overpopulated metropolis they call home. Bea knows she cannot stay in the city, but there is only one alternative- The Wilderness State. This vast expanse of unwelcoming, untamed land is untouch ed by mankind. Until now. Somewhere between a science experiment and a refugee, Bea and Agnes slowly learn how to live in this unpredictable, often dangerous land. But as Agnes embraces this radically free new existence, Bea realises that her bond with her daughter will be tested in ways she could never have foreseen.   ...Show more